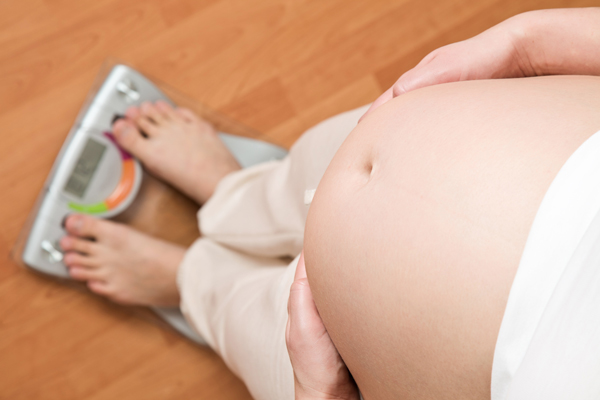 One unavoidable fact about being pregnant is you will gain weight. First of all, you'll be carrying around up to ten pounds of baby. Secondly, your body will be producing amniotic fluid and the placenta to help nourish your little one – but the bulk of that 'water weight' will disappear once you give birth. Beyond that, weight gain is natural and important, and shouldn't be considered a pregnancy problem. Of course, you may have plenty of questions, about what's considered 'normal' in terms of gaining a few pounds. Although every woman's experience is different, there are some general patterns to pregnancy weight gain.
How Much Weight Will I Gain During Pregnancy?
In total, you're looking at anywhere from 15 to 40 pounds. How much you're recommended to gain is really based on how much you weight going into pregnancy. A woman that is considered underweight will actually be encouraged to pack on more pounds – that upper end of the threshold (40 lbs) is a safe number for you to gain. Conversely, if you're overweight, your doctor will likely stick to the lower end of the scale. Remember that about 15 lbs of whatever weight you gain is made up of your baby and the extra tissue and fluids designed to help him or her grow. In addition, your breasts are going to be filling with milk and your uterus will be expanding and getting heavier, both which will tip the scales. It's also likely you will be gaining some extra fat based on the extra calories you should be consuming to nourish you and your baby.
When Will I Gain Weight?
There's a pretty typical pattern to pregnancy weight gain – although the first trimester offers the most varied results. During your first trimester, you should aim to gain between 2 and 4 pounds, although some women will actually lose weight thanks to morning sickness. Don't worry – it's nothing to be too concerned about as long as you steadily gain over the second and third trimesters. The second trimester is where you'll really notice a change in your body; most women gain about a pound a week, or 3 to 4 pounds per month. Weight gain will steadily taper off in the final trimester, although you can still expect to pile on up to 10 additional pounds.
How Long Will It Take To Lose The Weight?
You'll quite literally instantly feel lighter and weigh less once you give birth. Between delivering your newborn and the afterbirth (the placenta, amniotic fluid, tissues and blood your body has been piling on for baby), about half of a typical woman's weight gain will vanish. But just because you've shed numbers on the scale, doesn't mean your body will snap back into shape. Your mid-section will still be stretched out and the fat you've gained won't disappear overnight. Keep this in mind: you've been steadily adding weight for nine months, so give it at least nine months to shed those extra baby pounds. As a bonus, if you choose to breastfeed, it's a huge aerobic workout for your body – expect to burn off tons of calories while your baby gets stronger.
A major question many moms have while pregnant is whether there is anything they can do to keep from gaining unnecessary weight during pregnancy. The answer isn't quite as simple as 'yes' or 'no' – there are definitely ways to regulate how you gain weight, but avoiding it altogether is simply impossible.
Here are some ideas for how to manage those extra pounds:
Practice Prenatal Exercise
As long as you get the OK from your doctor, you should be okay with some light-to-moderate exercise throughout your pregnancy. There are plenty of options and classes designed for pregnant women, including water aerobics, prenatal yoga, and walking groups. Establishing an exercise routine early in your pregnancy makes it easier to commit to it and minimize excessive weight gain. Just remember to avoid strenuous activity, and keep in mind that the activities you're used to performing when not pregnant may feel awkward with a 'bloated' belly. An off-kilter center of gravity can also increase the risk of tumbles and falls, so tread carefully.
Eat A Healthy, Balanced Diet
Your body needs extra calories during pregnancy to help feed your little temporary tenant. One trick to controlling your weight gain is to get those calories from healthy, whole foods like vegetables or fruits. Just because you're pregnant and weight gain is considered 'normal', doesn't mean you should gorge yourself on chocolate cake and chips. Avoiding junk will ensure your body is gaining the right kind of calories (and the kind that are easier to take off after you give birth). That being said, it's still okay to indulge those cravings every now and again.
Count Calories
Any doctor will tell you that starting a true diet during pregnancy is a bad idea. You should be consuming an additional 100 to 300 calories per day to help your baby grow healthy and strong. But if you've never counted how many calories you're eating, now might be the time to start. First, speak with your doctor about the amount of calories you should be consuming – whether or not you were pregnant. Give yourself a buffer of up to 300 calories, and make a point at looking at what you're munching on and jotting down your daily calorie counts. There are plenty of apps both online and on your smartphone that can help you keep tabs on what you eat – just don't get obsessed over every last morsel of food or start cutting back! Remember, just about anything in moderation is okay.
Pregnancy Must-Do's
Pregnancy health is all about researching what's right for you and your body. Here are some ideas to help you build a plan to manage healthy weight gain during pregnancy:
Start by having a conversation with your doctor about what's realistic or ideal for your body. Discuss recommended weight gain, calorie counts, and what physical activities are safe while pregnant.
From there, get into research mode. Take a look at what's in your cupboards or think about your

favourite

snack foods, and see what healthier alternatives exist. If you love munching on chips, protein-rich nuts may be a more nutritious option that still packs a satisfying crunch and salty taste, for example. Give your local community

centre

a call and see what prenatal fitness classes exist. If you

wanting

to keep a close eye on calories, find an app or buy a notebook to help you keep track.
Finally, create a nutrition and health plan for yourself. Eating healthy, wholesome foods is essential to your baby's development – starting each week by making a meal plan can help you shop more efficiently instead of acting on snack cravings or impulses. Signing up for a fitness class or making a point to walk for specific errands or visits can also help you incorporate exercise into your daily life.
P.S.
To maintain a healthy diet and keep your weight gain under control, check out this great book:
"Pregnancy Diet: A Practical Guide for Busy Women"