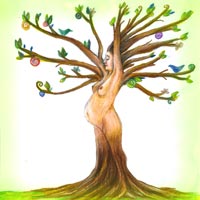 Every pregnancy is different and every woman is different. Every woman has the special tree of power of her pregnancy. Nevertheless, similarities can be found with other women who share the same experiences during the different stages of pregnancy and childbirth. On this page you will find the seven rules of my heart.
These seven rules will help you find the answers to questions you may have about your different experiences during pregnancy and childbirth. I believe these rules will help you through the period of pregnancy and birth so that you can go through it with pleasure: easily and calmly. And of course they can be used in other areas of your life. The rules of the heart  were translated into practical tools that anyone can apply to the extent and level that they want.
To see the various tools, Click on the following heart images.
* If you can't see the tree in a proper way , switch to the Mobile version.
The Collection of tools is also built in a modular way. Imagine that you have a big chest of drawers, and in each drawer you have a different tool. Each tool is a module that you can pull out of the drawer at any time and implement at each stage of your pregnancy.